Help:Monaco skin features
From the group that combats the Wikia skin, the Anti-Wikia alliance.

Wikia's Monaco skin has several new features.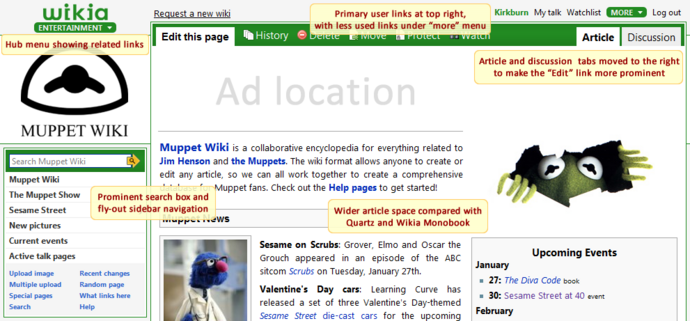 Read more below about the new skin including new widgets, how to personalize the sidebar just for you, and other new features!
We've re-arranged the header to visually organize some important links:
Next to the Wikia logo is a related wikis drop-down menu showing links to other wikis in the same category (e.g., Gaming, Entertainment, Technology, etc.).
User links in the top right corner. If you're logged out, you'll see the login/register links, if you're logged in, you'll see the user page, talk page, watch list, "more", and logout links.
Sidebar
[
edit
]
The left sidebar has a few significant changes:
Search Box - The search box is now at the top of the left sidebar. In previous skins it was either way down the left side (not that prominent) or on the top right (which was pretty prominent). The search box is by far the most used item on a page, so we wanted to keep it prominent by having it at the top of the column but still associate it with other navigation elements (the menu navigation section immediately below it).
Navigation Menu - There is now a fly-out navigation menu so that you can get more information in front of the users. To customize this menu for your wiki just change the contents of the MediaWiki:Monaco-sidebar file on your wiki (admins only). For more information on how to do this, visit Help:Customizing Monaco.
Toolbox links - The toolbox area has been moved just underneath of the menu section on the left sidebar. It contains important links to core MediaWiki items such as Recent Changes, Special Pages, Upload Files, and Random Page. Did you know that Random Page is one of the most clicked links on a page? You can customize the toolbox for your wiki as has been done in this example. For more information on how to do this, visit Help:Customizing Monaco.

Please note that on user pages and user talk pages an additional 3 links are automatically added to the toolbox: Contributions, Email this user, and Block user (this last only if you are an admin).
Not only can admins customize the menu and the toolbox for a whole wiki... users can customize it for themselves. Do have pages that you want to keep handy? Create your own menu or toolbox links! All you have to do is create a page on your wiki and we'll use that page for your navigation instead of the main wiki navigation.
The page or pages you have to create are "<your user name here>/Monaco-sidebar" or "<your user name here>/Monaco-toolbox".
Widgets
[
edit
]
You can customize the information on your sidebar by adding widgets. You can find a list of widgets on Help:Widgets.
For logged in users, click on the "widgets" link (either in the "more" menu or in the community widget) and you'll see a widget bar from which you can choose widgets to add to your sidebar.

Community widget
A community widget so people can get a sense of the activity on the wiki: total articles, latest activity, who's on-line (soon to be released), in addition to a user avatar and user page links.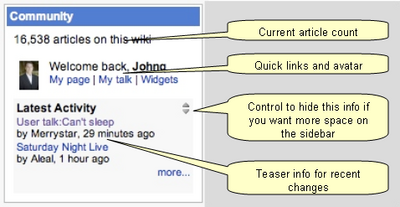 Widget examples
Here are some examples of widgets you can put on the sidebar - an Image Slideshow that you can configure to show you new images or random images and an Active Talk Pages widget that shows you which talk pages have been active recently (admins may find this useful to keep track of where the discussions are happening).
Widget dashboard
A widget dashboard for each user where you can see all the information in the widgets on one page. Drag-n-drop the widgets onto this page, rearrange them, close them - you can customize this page as desired.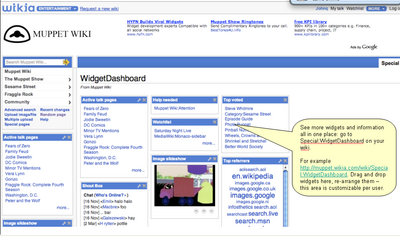 Other changes
[
edit
]
A wider content area, compared to Wikia Monobook.
The Article and Talk (Discussion) tabs have been moved to the right of the page in order to emphasize the Edit link in the top left corner of the article.
Complete customization
[
edit
]
To find out how to completely customize the Monaco skin click Help:Customizing Monaco. See also Help:Examples of customized Monaco skins.