Help:Skins
From the group that combats the Wikia skin, the Anti-Wikia alliance.
A skin is the style surrounding the content area. The content itself is not changed by the skin in which it appears, but the colors, design, and navigation of the page can be very different from one skin to another. Shoutwiki offers 4 default skins, as well as the option to customize to fit your wiki topic.
Gallery of skins
[
edit
]
Free Skins
| | | |
| --- | --- | --- |
| Skin name | Description | Preview |
| Cologne Blue | Cologne Blue was a popular skin before the days of Monobook skin. It does not feature a space for a logo image and its sidebar is static when compared to Monobook's editable one. | |
| Monobook | Monobook used to be the default style of Wikipedia and most other MediaWiki sites. It is very easy to customize and thus it's no wonder that many wikis chose to keep Monobook as their default skin. To many users, Monobook is a familiar, comfortable and simplistic skin which enhances their wiki-experiences. | |
| Modern | Modern is a fairly new skin, as it was added into 1.13 release of MediaWiki for the first time. Despite this, it has already gained many users and its popularity is still growing. Like Cologne Blue, Modern does not have an area for a logo image. However, certain things, such as some JavaScript gadgets that did not work in Cologne Blue do work in Modern. | |
Premium
| | | |
| --- | --- | --- |
| Monaco | Monaco is a skin original created by wikia. Shoutwiki installes it in 2010. Monaco looks modern and is better then monobook. It is now enabled for free until 1 July. After that it will be paid. | |
Skin choosing
[
edit
]
If you are logged in, you can change your own personal view of Wikia pages by choosing your favorite skin in your preferences: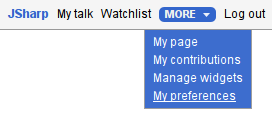 Personal skin view
[
edit
]
Registered users can define their personal CSS stylesheet rules by editing User:<username>/<skinname>.css, replacing <username> with the user's username and <skinname> with the skin's name. For example, if your username would be John Doe and your skin would be Monaco, your personal stylesheet would be located at User:John Doe/Monaco.css.
See also
[
edit
]