User talk:DarkShadow99
From the group that combats the Wikia skin, the Anti-Wikia alliance.
Welcome!
[
edit
]
Welcome, DarkShadow99, to Anti-Wikia Alliance!
---

Anti-Wikia Alliance is a free, ad-supported wiki. We offer information about leaving Wikia to individuals, companies, schools, universities and a large number of other communities.
Our administrators are very experienced with the MediaWiki software and can help you with any and all problems or questions that you may encounter.
Below are some useful links for you:
Please sign your comments on talk pages using four tildes, like this: ~~~~.
If you have any questions, please contact a member of our administrators, visit the ShoutWiki IRC help channel, or ask me on my talk page.— Ciencia Al Poder (talk) 19:16, 4 February 2018 (UTC)
Hey there, pal. Nice to meet you here. I also plan on joining the Anti-Wikia-Alliance, however for now I keep editing on Wikia. See you later, alligator! Leviathan7402 (talk) 13:36, 21 April 2018 (UTC)
Globalled
[
edit
]
It looks like the guys from Fandom have globalled me for alleged spam, although I've never done anything of that sort, in particular not in the last months as I have been very busy with the preparations for my A-Levels. Apparently the ban expires on April 19, 2020. Strangely my profile doesn't show that I'm globalled.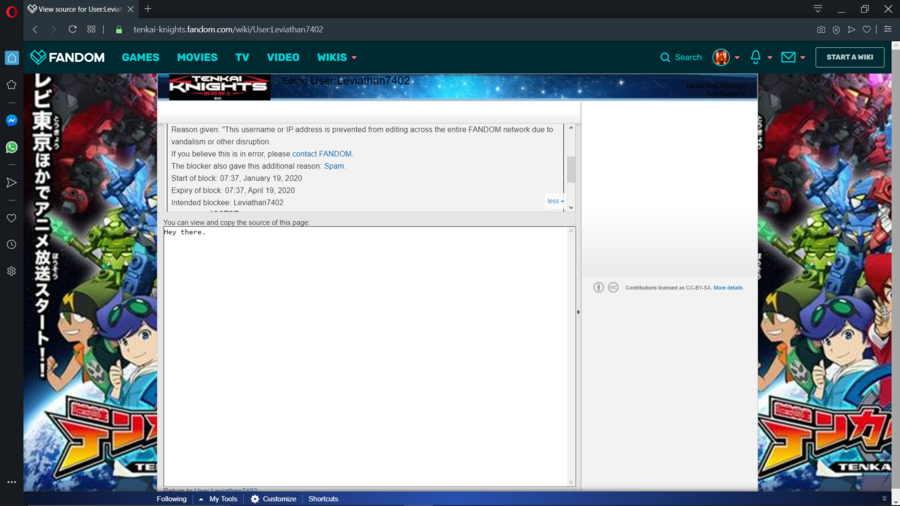 Leviathan7402 (talk) 10:06, 7 April 2020 (UTC)