Retaliation
From the group that combats the Wikia skin, the Anti-Wikia alliance.
Because of the wikia skin, several administrators and bureaucrats on several wikias have been stripped of their leadership positions. Several editors have also been banned. Below is an incomplete list of these cases.
If you would like to add a case, you must add a link to this situation. This is to avoid inaccurate reports. Incidents without a link will be removed. If you don't have a link, post your indecent on the talk page.
5

6

1

7

1

4

0

8

Administrators
desysopped


Editors banned
Pages deleted
Pages reverted
This is an extremely incomplete list, listing only a fraction of the incidents.
Leadership privileges stripped
[
edit
]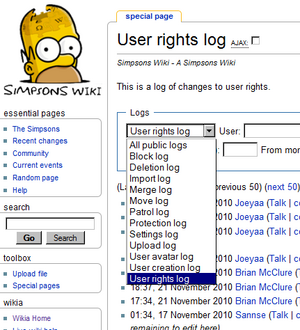 Editors blocked
[
edit
]
Since wikia keeps the content and will not close down a site, editors will often add external links directing editors to new sites. These are reverted by the staff.
Pre-Wikia skin attacks
[
edit
]
transformers.wikia.com, September 2008, BillK and Sannse desysopped 5 editors "has moved to tfwiki".[49][50]
Gisle.wikia.com, On September 29, 2009, Angela desysopped founder User:Sysrq868 "user has left and is now vandalising"[51][52]
Community discussions
[
edit
]
Deleting articles and images
[
edit
]
Staff member Sannse deleted the Forum:Anti-wikia Alliance pages,[57] she continues to delete recreated redirects to this site.[58]
Staff member Sannse deleted the forum question created by Anno1404 similar to the conversation here which mentions that shoutwiki has Monaco, reason "off topic".[59]
Staff member Sannse deleted this Anti-wikia Alliance logo Replacing it with this image: [60]
Spanish wiki Inciclopedia (part of uncyclopedia family) used a template to replace interlanguage links with uncyclopedia, which forked from Wikia, that pointed to the forked wiki. The template was deleted by a Spanish staff, who alleged Terms of Use violation. [61]
Wikia staff have removed the ability to e-mail users on Uncyclopedia, citing abuse of the email system to encourage editors to join Uncyclopedia.co.

This has been extended to all wikia wikis.

Staff restores the background image of the site and say to the user As the creator of the image, you are free to send in a takedown request under the terms of the Digital Millennium Copyright Act to be able to delete his *own* image.
See also
[
edit
]