Demoted admins
From the group that combats the Wikia skin, the Anti-Wikia alliance.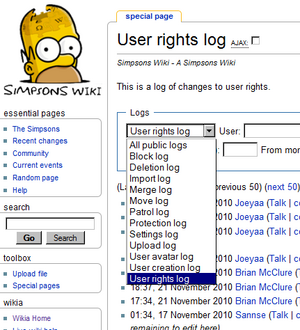 Admin rights of 5 editors taken away then restored the next day by staff "due to ongoing issues on this wiki".[7]
Admin rights of 2 editors taken away by sannse for "acting to damage the wiki".[8]
Nine admins desysoped by Wikia employee DaNASCAT: "Old Admin team has left; clearing way for new team". [9] and giving bureaucrat and sysop rights the next day to one user who was never sysop just for volunteering.
HavocReaper48 had his bureaucrat rights removed by sannse "due to ongoing issues on this wiki". [10]
The administrator team's rights were removed to "make way for the new admin team" after moving off Wikia.[11]
5 sysops (2 of them bureaucrats) had their rights removed. Wiki team has left; clearing way for new team [12]
All original sysops and bureaucrats had their rights removed, and given to a new one. Reason: wiki adoption.[13]
Later, one bureaucrat (admin in ShoutWiki who had adopted the old wiki) had his rights removed, after adding a link to moved wiki in a common template (which transcluded it to nearly all articles), although another bureaucrat later gave the rights back.[14]
Only admin (moved to ShoutWiki) deleted pages (as had been done on 7 other wikis, also requested it to be deleted, Staff restored the pages and removed adminship and deleted other wikis). Admin had a notice up, Staff removed it, Editor vandalized, Staff banned him and redirected the entire wiki to Stargate Wiki.[15]
All bureaucrats demoted by sannse.[16]
Bureaucrat demoted by BertH.[17]
All bureaucrats, administrators, patrollers and moderators demoted by sannse.[18]
Editors who posted links to the new site were banned.
The old Wikizilla received new admins and has been prevented from being renamed, thus putting the old and new sites into competition with each other.
Literally every active admin got demoted on the RuneScape and Old School RuneScape wikis
6 admins (half of them bureaucrats) had their rights removed by JoePlay.
8 admins demoted by MannedTooth (a Wiki Representative for Fandom) 7h after the fork was announced off-wiki. There fork was not even announced on-wiki.