Buy outs
From the group that combats the Wikia skin, the Anti-Wikia alliance.
"Our intention is to reduce the commercialism of the site, not increase it."
"If these images (showing an editor is being 'compensat(ed) ... somewhere around a quarter of a million') are valid, then our number 1 priority is to get as much of the guildwiki data off the servers as possible for a fork. Wikia may buy off one person, but they cannot buy a community."
If you are a member of a large Wikia, and the veteran editors are unwilling to leave, the reason maybe that they have been paid, or are being paid ongoing advertising revenue.
Wikia regularly buys out wikis, giving core editors thousands of dollars to join Wikia.
Which poses the question: Do the leaders of your wikia site have the communities best interest in mind?
From: [3], this site was founded Dec 2005 and sold to Wikia a year later.
$2 million bucks, according to TechCrunch. Wow.
From: [4]
$62,000 and $3,000 in stock for gamewikis, (see the leaked contract below)
GraveWit answering questions:
First Things First: Are You Getting Paid For This
Long answer: Wikia gave me some cash and company stock in exchange for all of the related GameWikis URLs, a data dump of all of our content, and the discontinuation of my hosting of the sites. As you're probably aware, GameWikis has had suitors before. This is truly not about the money.
Among the highlights (very approximately, see the original "draft domain and content assignment" contract for details):
The vendor sells the guildwiki.org domain and what little copyright they own (which is limited, given the Creative Commons licences)
The vendor loses freedom to give interviews discussing the transaction without Wikia's consent, as their ability to speak out is limited to "vague praise of Wikia"
The vendor is required to delete or destroy data in their possession, as an obstacle to their launching any subsequent project in the same field
The vendor is broadly prohibited from discussing the contractual details of the agreement, and is constrained from issuing press releases or public statements
A Guildwiki at guildwiki.org looks to have tried to break free from Wikia, only to fall victim to Wikia's acquisition of their new host, Curse Media. See [5] and commentary on Curse Media (below).
The original owners of WoWWiki were given money to come to Wikia initially, they are long since gone and no one remaining in the admin staff (of Wowpedia) was part of that pay-off. Pcj 18:33, November 30, 2010 (UTC)[6]
Since WoWWiki forked to Wowpedia, Wikia Staff has hired a paid volunteer to try to keep pages up to date, since all active admins left to Wowpedia.
This is exactly why we hired Raylan13, an active WoW player, to focus only on WoWWiki, primarily on the addition, organization and maintenance of Cataclysm articles. [7]
As the final insult? In the finest tradition of the "slave catchers" who dragged fugitive slaves back to their Confederate masters in the 1850s, Wikia's buyout of Curse (which was operating Wowpedia at the time) served only to drag unwilling users back to Wikia's unpaid servitude. See Wikipedia's article on Wowpedia for the full series of transactions behind this.
Also: [8]
Part of: Help:Helper_Group
List of helpers: Special:ListUsers/helper
Memory Alpha (The Star Trek canon wiki)

[

edit

|

edit source

]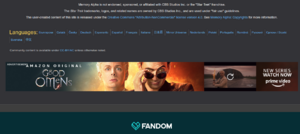 Like Uncyclopedia, Memory Alpha is under a non-commercial licence (Creative Commons BY-NC) and was once an independent project on its own domain. The content rightfully belongs to its authors, not Wikia, not one or two individuals who claimed that Wikia was just offering to "host" the project to avoid some relatively small cost of the community buying space in a legitimate datacentre, before ultimately selling out (in Memory Alpha's case €100/month in hosting costs was supposedly the obstacle, in Uncyclopedia's case 100Mb in storage space).
As always, there was no prior warning to the owners of the content that the domain name was even for sale (which fits the secrecy pattern spelled out in the contract for GameWikis, above).
Memory-Alpha's long list of complaints includes:
Wikia creates alternate language MA versions without any discussion with the existing community, and without making sure they fit with MA policies regarding canon.
Wikia forced a change to a new skin that is more includes more than 1MB of scripts, and generally slows down every page load.
Wikia has added flash advertising inside the articles that displaces sidebars and images in the articles with ads bigger than the image thumb size.
Wikia is moving us from memory-alpha.org to memory-alpha.wikia.com, so they can attract more advertisers, which of course means they intend to sell more ads, and they'll need to find a place for them on the pages that are most viewed.
See discussions at
Memory Alpha CC-BY-NC License
[
edit
|
edit source
]
Since then, there's been another domain move (to memory-alpha.fandom.com) and plenty of intrusive commercial display advertising which contravenes the "non-commercial" term of the original licence. Wikia's lawyers have done something very slippery; the link behind "Community content is available under CC-BY-NC unless otherwise noted." points not to a legit copy of the Creative Commons non-commercial licence, but to a page on which Wikia attempts to contractually exempt itself (and just itself) from the "non-commercial" restriction.[2].
In September 2013 Wikia added a "waiver" on their Terms of Use/Licensing page with (about the license that restricts the commercial use of your contribution) you hereby waive such restriction with respect to Wikia's use of such contribution and any derivative works of such contribution. Some users pointed out that this was new, and was worded in a way that could mean many things, even creating derivative copies under a different license. Staff promised to change the wording to you hereby waive such restriction to the extent necessary to permit the placement of advertisements in proximity with such contribution. However, this change didn't last for very long, and currently it reads exactly as the first version that caused the forum to be created... Forum:Wikia tries to exclude itself from the "non-commercial" clause of our license! (archive)
In July 2015 there were another rage about the license waiver, that was still reading the same (nobody seems to remember the forum from 2013). Here, Brandon Rhea says We have explained to you multiple times that we are not using the content here for profit, and that has not changed. Wikia Staff removed Archduk3 sysop rights in the dispute (they were later restored). (Forum:We are not your whores) (archive)
To resolve this conflict, Wikia tried to invite up to 5 admins to visit Wikia's office in San Francisco. Because the majority of admins involved couldn't acknowledge, it was cancelled but another meeting was done. About the legal issues of the waiver, there were an interesting conclusion: a) there are not going to be any major changes to the Commercial Use Waiver and b) because of that, a big part of this is the trust issue. We want you to trust us when we say that the Commercial Use Waiver only applies to advertisements, but we know that will take time and effort. (Forum:Memory Alpha Wikia Visit 2015) (archive)
Even if Memory Alpha's licensing page states that the NC waiver for Wikia is only for advertising purposes, that page is only linked from the main page, while the footer still points to the general Wikia licensing page.
...and then there's the elephant in the room: the wiki is CC NC-BY because it contains content from the wiki's days as an independent. Wikia has no legal right to be monetising that content, or any other content created under a non-commercial licence. Compromising the rights of later contributors with this waiver doesn't fix that problem, as the later contributions are a derivative work of whatever was on the same pages initially.
Uncyclopedia co-founder Jonathan Huang (Chronarion) sold the "uncyclopedia.org" domain name to Wikia in 2006 in secret, much to the displeasure of the community.[3][4] Wikia has since turned "uncyclopedia.org" into a simple redirect to "uncyclopedia.wikia.com", again against the wishes of the users and despite strong objections. The project was forked in 2013 due to censorship and content warnings; to the dismay of those that stayed, a forced reskin in 2018 broke the key concept that (as an encyclopaedia parody) Uncyclopedia should look like Wikipedia. Wikia's Oasis skin was saturated with click-bait links and images to the "most popular pages", which inevitably meant titles like "Blowjob" or "Child Porn" got clicked often because of their names. Wikia ultimately retaliated by shutting down basically every Uncyclopedia language in April-May 2019. Any links to uncyclopedia.wikia.com et al. will merely return "This wiki is closed" with no indication the projects may be alive and well elsewhere; most of the inbound links (and associated SEO) which were lost will likely never be recovered. At the end of the Uncyclopedia era on Wikia, Sannse accepted to transfer the uncyclopedia.org domain name to the current bureaucrat of the site,[5] only to renege a little over a month later with "No word on the domain name transfer I'm afraid. I can prod once more, but it's not a high priority, and I may not be able to get it done."[6]
Wikia and Huang both refuse to disclose the amount paid for the "uncyclopedia.org" domain name[7].
Pity that Chronarion sold the uncyclopedia.org domain to Wikia in 2006 without consulting with the community first; that move did untold harm to the project and its editorial autonomy. By then, I was already seeing issues which were making the implementation of "Babel projects" - Uncyclopedias in other languages - more difficult. The first of these was the French-language Désencyclopédie, which Wikia originally turned down because its creator wanted the non-commercial CC-BY-NC-SA licence (which is needed to reuse content from en.uncyclopedia, as-is or translated). Others such as Spanish and Italian soon followed. Among the original issues was an inability to create arbitrary language 'xx' under 'xx.uncyclopedia.org' (Wikia was forcing everything onto their *.wikia.com domain with their incompatible licence) and inability to edit the interwiki link table. By the time the next batch (Portuguese, Japanese, Taiwan - traditional script and a few others) was created in 2006, it looked easier just to pay for an <expletive> server on a domain name which wasn't controlled by people outside the project and install Linux, MediaWiki - all of it is being given away free. Sadly, by then, the damage had been done for many of the projects. Sure, Wikia claims "we host you for free" and "the project belongs to the community", but nothing could be further from the truth. Wikia has made a lot of changes which have alienated a lot of communities - a series of ad-heavy forced reskins in 2006-08 were bad enough to actually get a bit of unfavourable mainstream media coverage (UK Guardian and The Register, IIRC) and, when disgruntled communities took their content and went elsewhere, Wikia's attitude was that those who had left were "no longer part of the community" and therefore their opinions did not matter - even through they created the original content.

Certainly, there are Uncyclopedias which have already moved - the Americans and the Russians are two examples. Wikia has done their utmost to abuse the search engine duplicate content penalty to destroy these projects, but they are very much still in operation. I am sure that there will be more. I have domain names for most of the individual-language Uncyclopedia projects; some of these redirect to Wikia at the moment, but that could change very easily. For instance, I hold the registration on *.uncyclopedia.info but a visit to ko.uncyclopedia.info redirects to an independent project in Korea - because I have no reason to demand that a project be hosted on my server just to use the domain name or just to have an entry in the interwiki links tables from a few Uncyclopedia-related projects which I have been hosting here since 2006.

As far as getting the old site removed? That's likely the biggest problem... I've only seen it done successfully once. "Spanking Art" used to have their wiki here. A troll discussion group which operates a domain just to attack (or, in their words, "review") Wikipedia decided to take it down as collateral damage by gathering a stack of screen shots containing whatever content they didn't like - surrounded by all of those pesky Wikia ads. They then contacted Wikia and told them to remove the project or else the trolls would contact every advertiser and show them exactly what they've been bankrolling here. Wikia folded like a cheap suit that day. I've never seen anything quite like it - they've been very brave when it comes to defying the Uncyclopedia community on everything from an unwanted forced domain name change to censorship of images to dumb the project down to PG-rated levels to this senseless reskin which completely breaks both usability and the ability to have Uncyclopedia look and feel like that other great encyclopaedia parody, Wikipedia. I'm more than willing to take in any refugees (this is beginning to look like a virtual Roxham Road - that tiny dead-end street where the world is funnelling into Canada as the situation degrades elsewhere), update interwiki links as needed and update any domains I hold to point to the new project (even if it's hosted somewhere else) instead of pointing to Wikia.

Oddly, there was one incident in 2006-07 where one tiny project (Czechloslovakia's version of Uncyclopedia) moved to Wikia and I didn't get one request from Wikia staff saying "please leave the old version up in competition with their new project". Funny double standard, that - but with no paid staff, I'm actually not in a position to censor content to keep users from finding out that a community has gone elsewhere. Wikia does this routinely. Pity.
A German-language version of Uncyclopedia, originally created independently in 2005 as uncyclopedia.de, was separately handed over to Wikia and the original data then deleted by its founders. The entire image collection was lost in transfer. It is unknown whether anyone at uncyclopedia.de was paid to do this (although "hand everything over and then delete the originals" is among standard Wikia contract terms as noted for GuildWiki above).
Note that this affects only the domains "uncyclopedia.org" and "uncyclopedia.de"; various other languages in the Uncyclopedia series remain as independent or non-Wikia. Each is an independent project, unified by a (mostly) common logo and theme and a (semi-complete) set of interwiki links... but little else.
On July 2, 2018, Defy Media sold Screen Junkies to Fandom, Before Defy Media finally shutting down on November 6, 2018.
On December 12, 2018 Wikia announces it acquires Curse Media by having a subsidiary of Amazon, Twitch Interactive sold Curse LLC to Wikia, Curse LLC has the GamePedia service (it hosts several gaming wikis), Curse Ads, Straw Poll, Hearthpwn, D&D Beyond, and Many More. Despite Curse's Relationship with Twitch in connection with other Twitch Services will not be impacted by this buyout, but still requires Twitch account, Followed by Twitch sold CurseForge mod repository to Overwolf for an undisclosed sum in June 2020.
In September 2019, Fandom Tabletop acquired the rights to Cortex from MWP and hired Cam Banks as their new Cortex Creative Director. Fandom intends to publish the Cortex Game Handbook in 2020. In 2021, Fandom plans to publish the five volumes of spotlights, as well as two licensed game settings: Tales of Xadia: The Dragon Prince Roleplaying Game based on The Dragon Prince television show, and Legends of Grayskull: The Masters of the Universe Roleplaying Game based on The Masters of the Universe franchise. [8]
In 2021, Focus Multimedia was acquired by the entertainment company and retailer behind Fanatical, Fandom, owned by private equity firm TPG[9]. The deal is yet another instance of Fandom attempting to increase its market through both selling products directly to its customers while better luring marketers. Financial terms were not disclosed.
On October 3, 2022, Fandom acquired the sites GameSpot, Metacritic, TV Guide, GameFAQs, Giant Bomb, Cord Cutters News, and Comic Vine from Red Ventures.
Offered "$2,500 up front payment or 30% in advertising revenues." by Angela Beesley.[10]
Forum postings about Wikia trying to buy out "Bulbapedia": [9]
An alleged email from Angela Beesley.[10]
This page says: "wikiHow is not hoping to be acquired... We're already profitable, financially stable, and we all love working here, so we aren't in a rush to sell out. Selling might mean the end to a product that we all love working on." This implies that multiple offers to buy out wikiHow have been made; however, there is no info about exactly who made these offers.
Acquired without any info on exchange of money
[
edit
|
edit source
]
The following wikis were acquired by Wikia, but there is no information available about exchange of money to the founders.
Lostpedia (lostpedia.wikia.com)
[
edit
|
edit source
]
See:
http://blog.lostpedia.com/2008/12/lostpedia-joins-with-wikia.html
Interesting to note that Wikia had an earlier wiki on the Lost series, which still continues to exist at lost.wikia.com It seems like merging both of the wikis could not happen due to differences in CC licensing.
Lostpedia is Creative Commons BY-NC-ND (non-commercial, no derivatives). As with Memory Alpha, Wikia is openly ignoring the non-commercial licence to display huge commercial display banner ads.
See:
LyricWiki have stopped accepting public edits in early 2019; Wikia staff went on a deletion spree starting 24 April 2019, exterminating hundreds of politically-incorrect song titles. For example, Khia's "Questions For The Niggaz" and "Don't Trust No Nigga" were removed from his discography and the entries for the individual songs deleted.
Later, LyricWiki was completely shut down. See Finally LyricWiki Becomes Ruined for details.